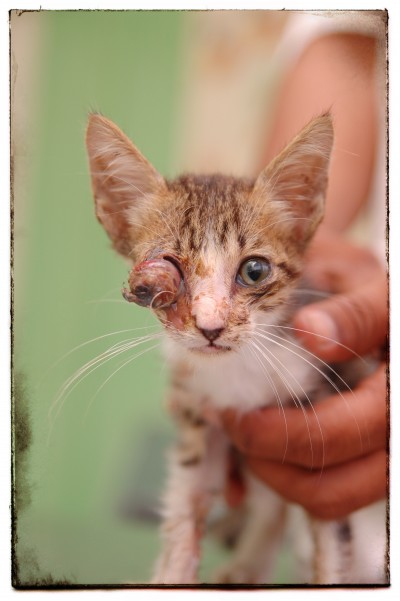 Pertama kali melihat foto kucing ini, kami berpikir, "BAGAIMANA bisa kucing kecil dan ramah seperti LEO, yang suka bermain dan mendekati manusia, berada dalam keadaan seperti ini?"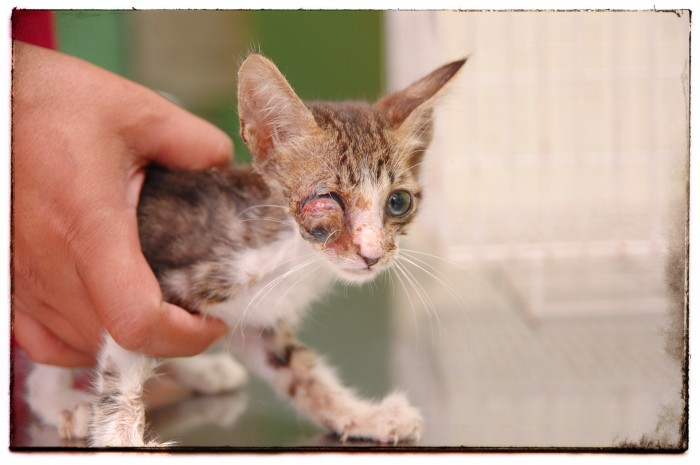 Chlamydia adalah bakteri yang menyebabkan penyakit, yang jika dibiarkan akan merusak mata kucing meskipun prosesnya tidak instan. Biasanya penyakit ini dimulai dengan gejala ringan yang makin lama makin parah. Penyakit ini dapat dengan mudah diobati tetapi jika didiamkan maka keadaan bertambah parah dan hasilnya akan mengenaskan.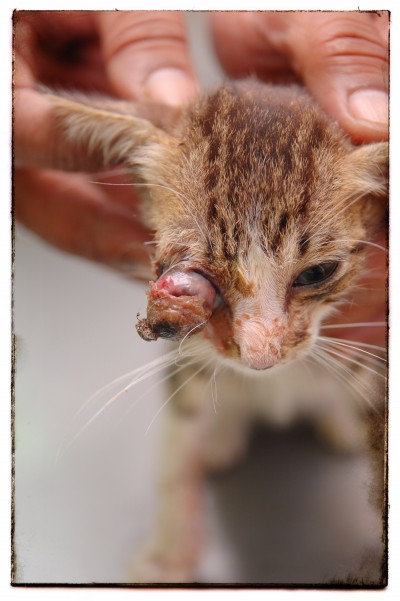 Leo baru berusia 3 bulan, sangat ramah dan tidak berbahaya sama sekali… Meskipun begitu, dari sekian ratus orang yang lalu-lalang dan melihat Leo di jalan dengan kondisi mata yang makin memburuk kondisinya, TAK SATUPUN dari mereka terketuk hatinya untuk menolong.
Pada saat teman kami menemukannya, Leo dalam keadaan pucat dan sangat lemas… Tetapi di dalam tubuh yang menderita, terdapat jiwa singa yang menanti untuk muncul segera setelah sembuh.
Mohon bantu kami menyelamatkan mata Leo dengan berdonasi untuk operasi mata dan pengobatannya. Dia membutuhkan uluran tangan kita semua hari ini.
Setelah sembuh, Leo akan diadopsikan, tinggal di dalam rumah dan tidak akan kembali ke jalan.
Email kami di letsadoptindonesia@gmail.com untuk mengadopsi Leo.
Terima kasih.
——–
LEO won´t see the New Year because he will be blind…
First thing I thought when I saw his picture was, HOW??? How does a friendly kitty like Leo, that approaches everyone to play and rub himself against his legs get to be in this position?
Chlamydia is a bacteria that, if left unchecked can destroy a cat´s eyes, but it doesn´t act overnight. It usually starts with mild symptoms that get progressively worst, its very easily treatable if caught early, but once damage spreads the results are devastating.
Hundreds of people saw Leo on the streets, they witnessed the progressive deterioration in his eyes, a little three month old kitty, totally friendly and harmless.. but NOONE DID ANYTHING.
This is the condition in which we´ve found him… he´s anaemic and extremely weak, still, under that terribly hurt body you can see there is a lion waiting to come out.
Leo is being stabilised at the moment and we will operate him as long as he is able to resist the procedure. Please help us save Leo´s eyesight and his life by donating towards his operation and treatment. He needs us today…
After Leo has been stabilised and operated he´s going to need a wonderful home that gives him love and safety for life. If you would like to adopt Leo (for international adoption), please write to viktor@myletsadopt.com telling him as much as you can about you and your animals.
Many thanks!!!