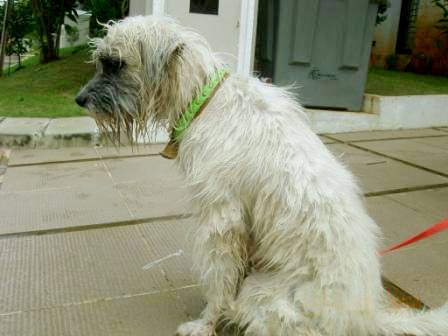 One afternoon, a member of Let's Adopt Indonesia was sitting in a park with a friend, walking their dog and chatted together when they saw a car parked nearby. A white fluffy dog came out of the car and then the car took off. They went to see the friendly dog, tried to pet her and played with her. But as the sun began to go down, no one came back for the dog. Thinking that her owner live nearby, they said goodbye and left her.
The next day when they went to the same area, they saw the dog again. It seemed that the loyal girl was still waiting for her family but they already abandoned her there.
After feeding the dog in the park for a while, our friends decided to take her home. She seems to be housebroken and very friendly and trusting. Why did her family decide to leave her just like that? We will never know.
The dog was named Moselle, and this lady is looking for a new home. If you are ready to open your heart for this pretty mademoiselle, please contact us at letsadoptindonesia@gmail.com.