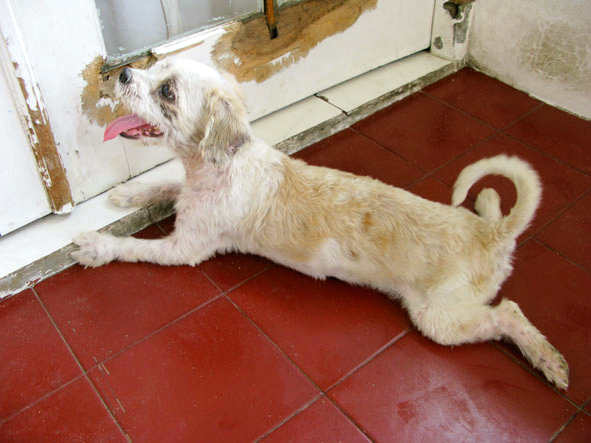 We got a call from one lady–she said her relative found a small dog but he cannot keep it because he was going to be stationed out of Jakarta. The dog was in OK condition (although he didn't elaborate what he meant by "OK"). We asked him to keep the dog for a while until we got him a foster home but then he said he found an adopter for the dog. The case was forgotten for months until the same lady called us again, saying that she needs help finding adopter for a small dog. It turned out that it was the same dog her relative found many months ago!
The poor dog was given to a friend, who thought that his kids might like the dog but the kids were scared of the dog, they wouldn't touch the dog! "Daddy, we don't want the dog, get rid of it!"
So the condition we saw when we went to see him was appalling–Mylo was laying on his own feces and urine, the cage was small, he was losing chunks of hairs, sick, and emaciated. There were feces everywhere, but this little guy was so happy to see us as if he just won a million dollar lottery! The kids said that their dad got the dog from somewhere, they didn't even care.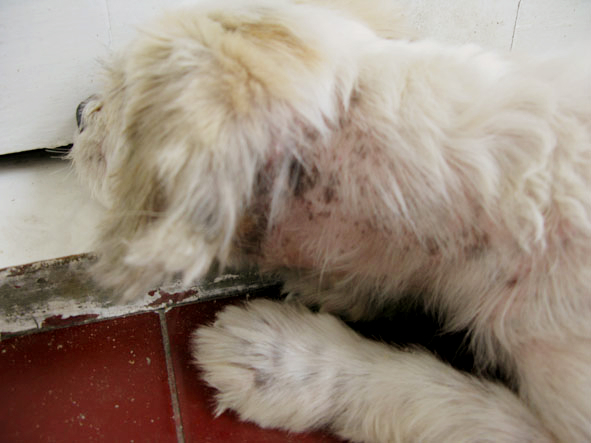 We stopped by a pet shop to buy things needed for the dog and from the staff working there, we got another sad truth about Mylo. "We know this dog! He has no name. The family ordered the cheapest dog food for him once a month. Sometimes the dog was so hungry that he ate his own stool! We came to wash the dog once in a while and to send the dog food, that's why we know about this poor dog… Nobody cared about him in that house".
After the suffering he has gone through in that horrible place, we believe that Mylo will get back to a beautiful baby he used to be with proper treatment and we promise him that he will live in the best final home he can ever imagine!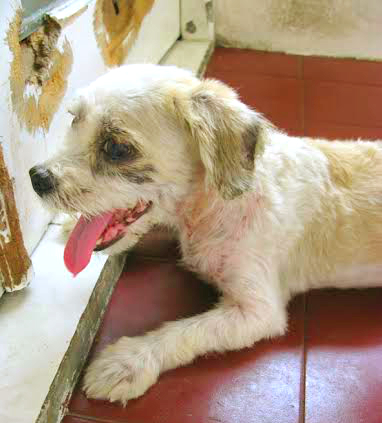 Help us give Mylo a new life! If you can, please donate for his medication at the animal hospital!
Contact us at letsadoptindonesia@gmail.com for information on how to donate.
Please help SHARE in your Facebook, Twitter, Path, and other social media!
PS: When Mylo's treatment is done, he'll be ready to move to his new family. Please contact us (letsadoptindonesia@gmail.com) for his adoption!
———–
Salah satu adopter kami menelepon dan meminta tolong untuk anjing kecil yang ditemukan kerabatnya dari jalan, tetapi kerabatnya ini tidak dapat menampung anjing tersebut karena dia akan ditempatkan di luar Jakarta segera. Anjing itu dalam kondisi OK (meskipun ia tidak menjelaskan apa yang dimaksud dengan "OK"). Kami memintanya untuk menjaga anjing itu sementara waktu sampai kita mendapatkannya rumah sementara tapi selang beberapa hari kemudian ia mengatakan bahwa ia telah menemukan adopter untuk anjing . Kasus ini dilupakan selama berbulan-bulan sampai adopter kami menelepon kami kembali, mengatakan bahwa ia membutuhkan bantuan untuk mencarikan rumah bagi anjing kecil. Ternyata anjing itu adalah anjing yang sama yang ditemukan kerabatnya beberapa bulan yang lalu!
Anjing malang itu ternyata diberikan kepada seorang teman, yang berpikir bahwa anak-anaknya mungkin menyukai anjing. Pada kenyataannya, anak-anak itu takut anjing, dan bahkan mereka tidak mau berdekatan dengan anjing apalagi menyentuhnya! "Ayah, kami tidak mau anjing itu, buang saja!"
Kondisi yang kita lihat ketika kami pergi menemui anjing yang kami namakan Mylo sangat mengenaskan-Mylo berbaring di kotoran dan air kencingnya sendiri, kandangnya kecil, bulunya banyak yang rontok sehingga beberapa bagian terlihat botak, sakit, dan kurus. Di lantai terlihat kotoran di mana-mana, tapi si Mylo begitu senang melihat kami seolah-olah ia baru saja memenangkan lotre jutaan dolar! Anak-anak mengatakan bahwa ayah mereka mendapatkan anjing itu dari suatu tempat, mereka bahkan terlihat tidak peduli.
Kami berhenti di sebuah toko hewan peliharaan untuk membeli barang-barang yang dibutuhkan Mylo sebelum pergi ke klinik, dan dari staf yang bekerja di sana, kami mendapat berita lain yang menyedihkan tentang Mylo. "Kami kenal anjing ini! Dia tidak punya nama. Pemiliknya membeli makanan anjing (dog food) paling murah di sini sebulan sekali. Kadang-kadang anjing itu begitu lapar sehingga ia makan kotorannya sendiri! Kami beberapa kali datang untuk memandikan anjing dan mengirim dog food, itu sebabnya kami tahu tentang anjing malang ini … Tidak ada yang sayang dengan dia di rumah itu " .
Bantu kami berikan Mylo kehidupan baru! Jika Anda dapat membantu, mohon berdonasi untuk biaya pengobatan Mylo di Rumah Sakit Hewan.
Hubungi kami di letsadoptindonesia@gmail.com untuk informasi tentang donasi.
Tolong bantu SHARE di Facebook Anda , Twitter , Path, dan media sosial lainnya !
Catatan: Setelah pengobatan selesai, Mylo siap untuk pindah ke keluarga barunya. Hubungi kami (letsadoptindonesia@gmail.com) untuk adopsi Mylo!