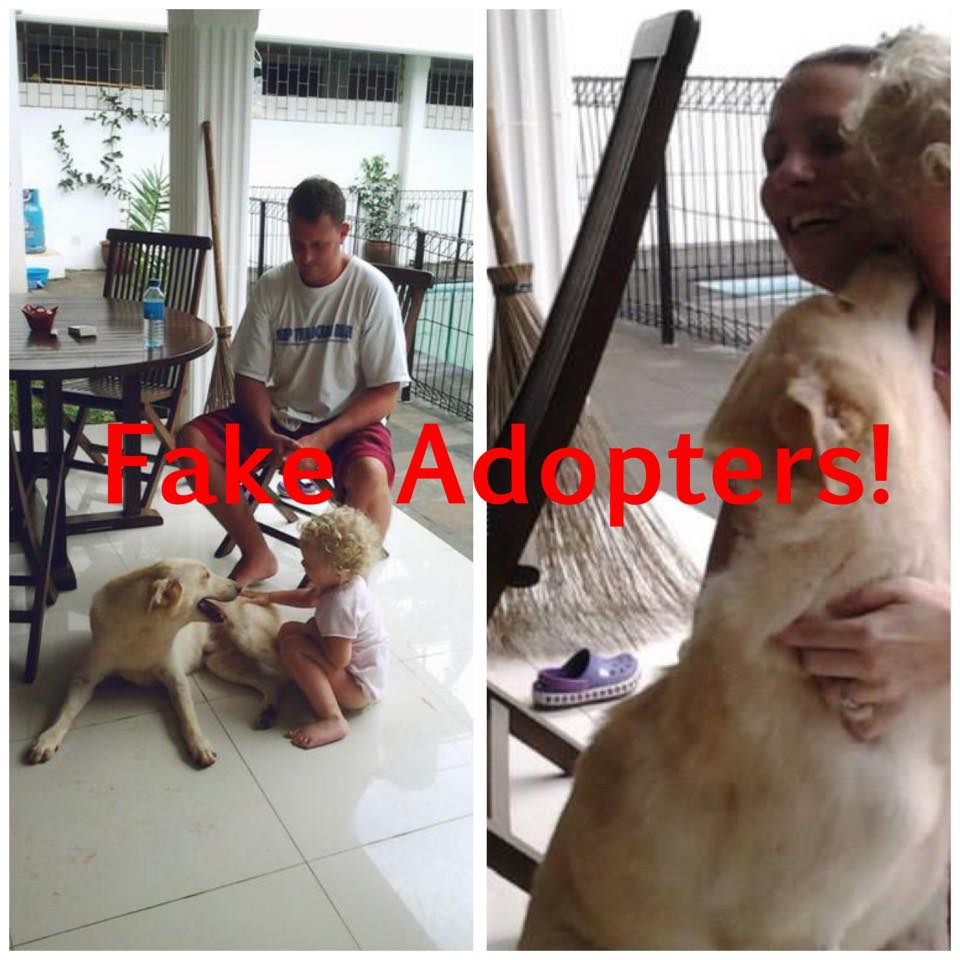 We thought this special boy found his forever family, but what happened next will shock you!
Gringgo, that is what this boy was called when we saved him, was found tied to a tree in the middle of the streets with no food, no water, no shelter in the harsh cold Bandung weather and rainy season. He survived eating small lizards and rats that came his way and drinking rain water for months before we could get him to safety.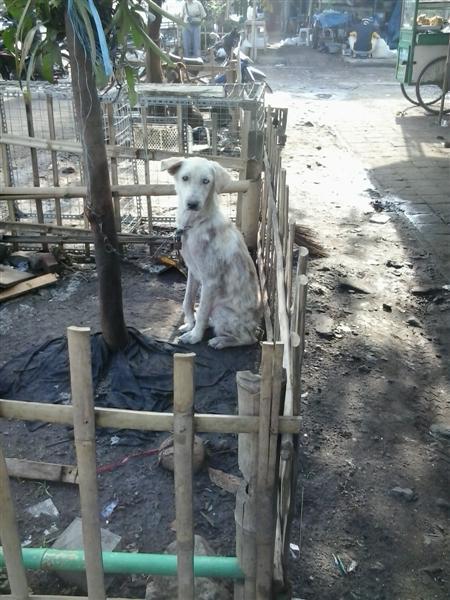 We found a wonderful home for Gringgo, or so we thought, when Lisa Miller and her family applied to adopt Gringgo. The happy family with two little kids seemed like a great match for gentle Gringgo. They insisted that they wanted Gringgo, that they wanted to keep him as a part of their family and that they agreed with the conditions to adopt from us.
Lisa and Matt, her husband, told us that they would live in Indonesia for many years and THEY WOULD DEFINITELY inform us should anything happen in the future if they need to leave Indonesia and cannot bring Gringgo. WE WILL DEFINITELY TAKE HIM BACK as we have made an agreement.
During the time they had Gringgo, we were updated about Gringgo regularly, always good news, although they were short and hurried.
We were glad that finally Gringgo found a loving family.
But one year later, we found a SHOCKING TRUTH.
We found out that they were leaving Indonesia and they were LEAVING GRINGGO BEHIND! To make matters worse, they GAVE AWAY GRINGGO TO THE FIRST PERSON who wanted to take him FOR FREE, while they knew that they should just give us a call and we would take Gringgo back!
We were lucky that we managed to get Gringgo back, as they gave up the dog they claimed they love so much to the first STRANGER who wanted to keep him!
Things went from bad to worse from there, we later found out that despite all the good things they told us, they did not even care about Gringgo. Gringgo was THINNER when we got him back than when he was adopted. He LIVED OUTDOOR and slept outside. HE WAS NOT EVEN ALLOWED TO STAY INSIDE THE HOUSE! His only friend was the housemaid, who cried when Gringgo was leaving, while the family DID NOT EVEN GIVE A SECOND GLANCE as Gringgo was taken away.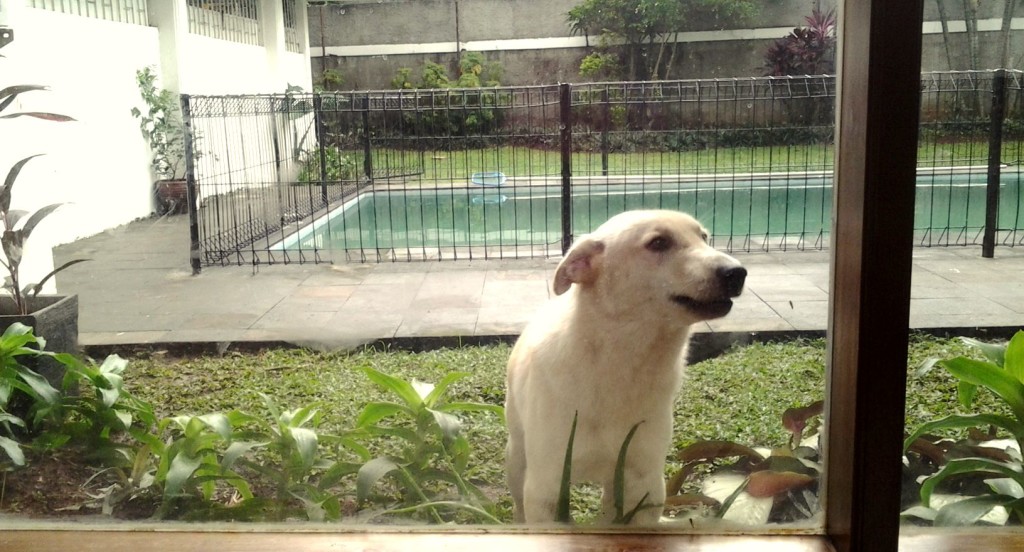 We certainly did not want to rescue Gringgo from his worst condition to be rehomed into a family like that! Gringgo is NOT A TOY or A PIECE OF JUNK that can be left behind when they move house! This family did not realize and certainly did not appreciate how much effort, time and energy we put into this — rescuing Gringgo from the thugs that kept him for God knows how long, fostering him and training him so that he was familiar with home situations, transporting him from Bandung to Jakarta, getting him checked regularly in the hospital and finally interviewing and screening potential adopters for this friendly boy!
This family definitely did NOT think of Gringgo as part of their family! This photo below is for you to remember!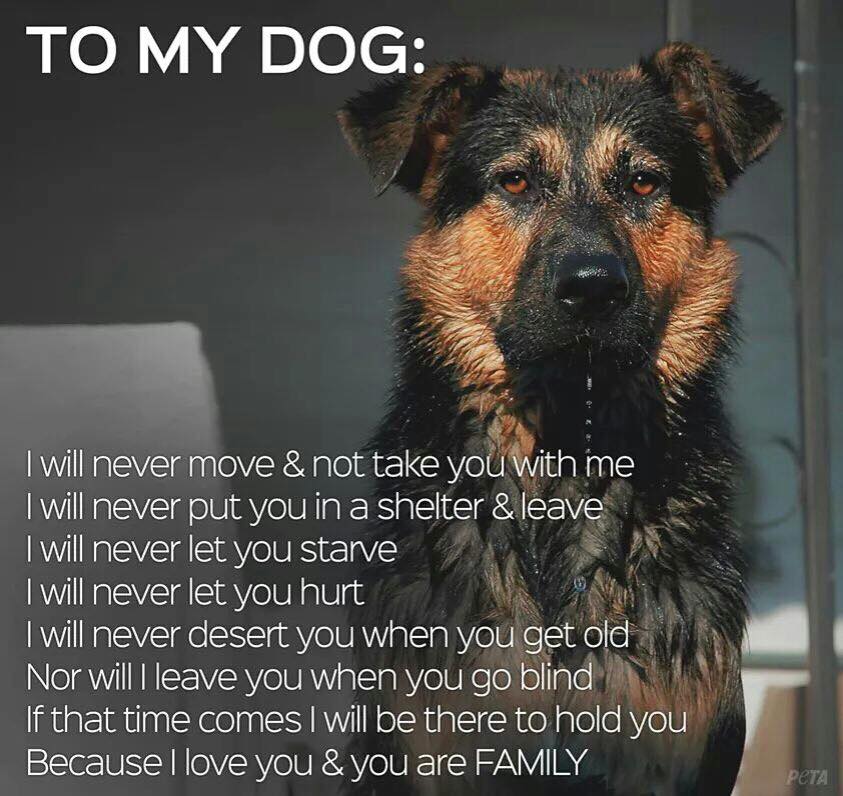 Gringgo is now safe. We will have him checked thoroughly and we will find him a new home. We decided to call him Ringo now. Ringo will be ready to meet his new family. Please open your heart and your home for this loving and gentle boy, GIVE RINGO ANOTHER CHANCE OF HAVING A REAL LOVING FAMILY – the kind of family who would love him till the end. Ringo is a very friendly boy and whoever has him as part of the family will hit the jackpot!
Contact us (letsadoptindonesia@gmail.com) to adopt Ringo and tell us about your present dog and your family.